Miscellaneous Print + Digital
U.S. Army #InOurBoots VR Campaign
The U.S. Army stepped up its recruitment efforts by tasking MRM//McCann, Casanova and Egami Consulting to create a VR Integrated campaign to show potential recruits what their experience in the U.S. Army could be like. This campaign features real soldiers, and real military occupational specialties.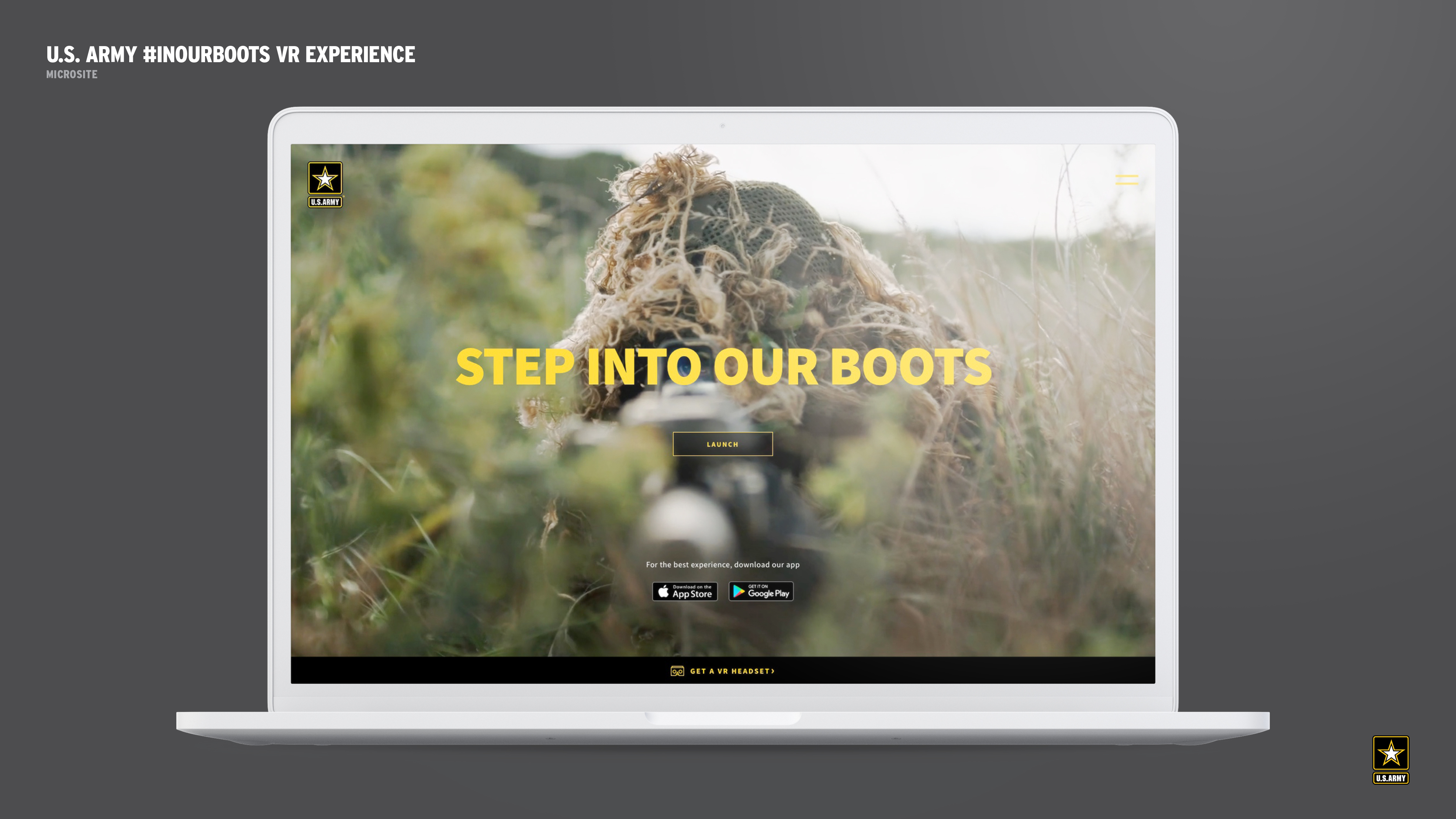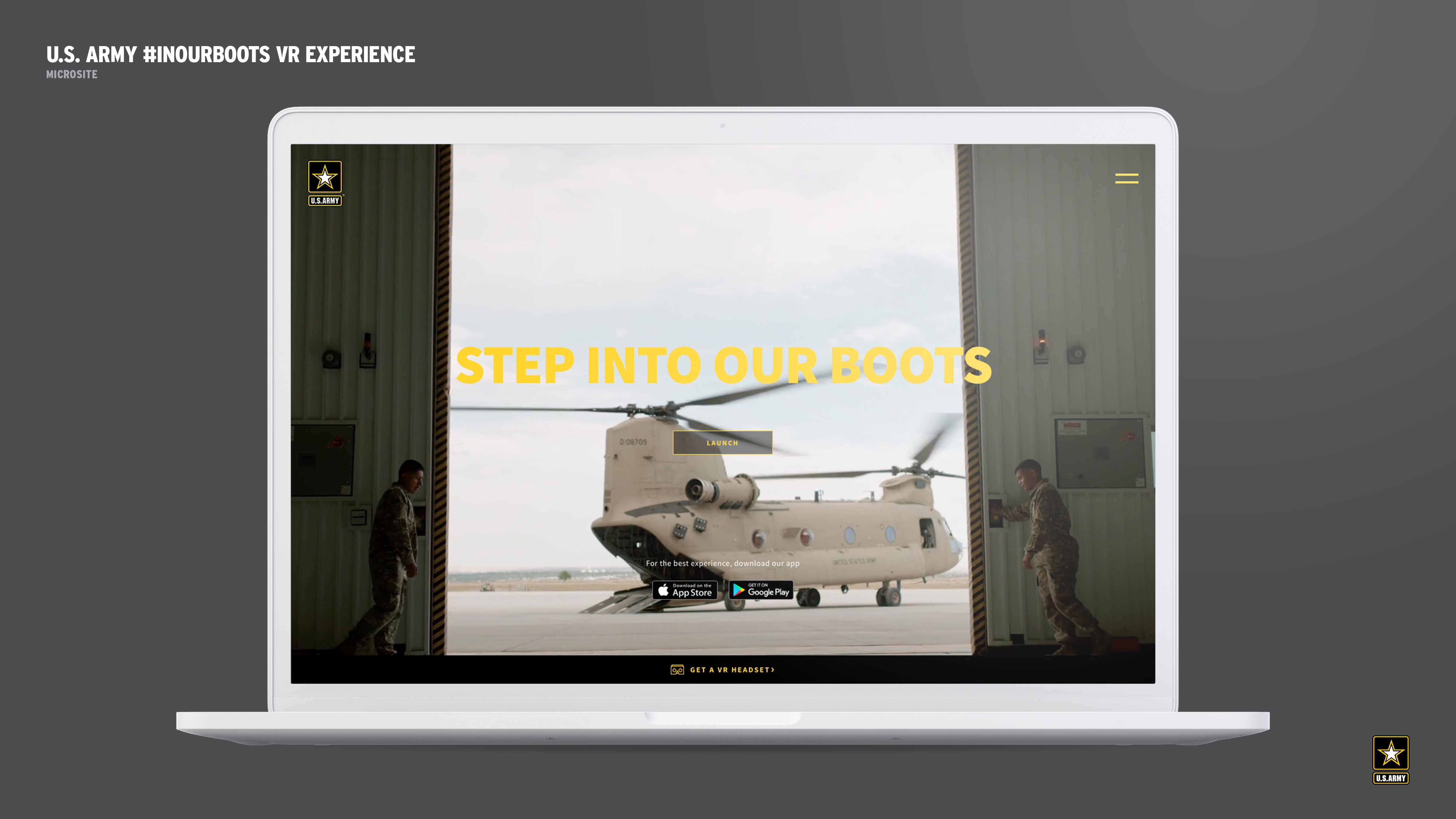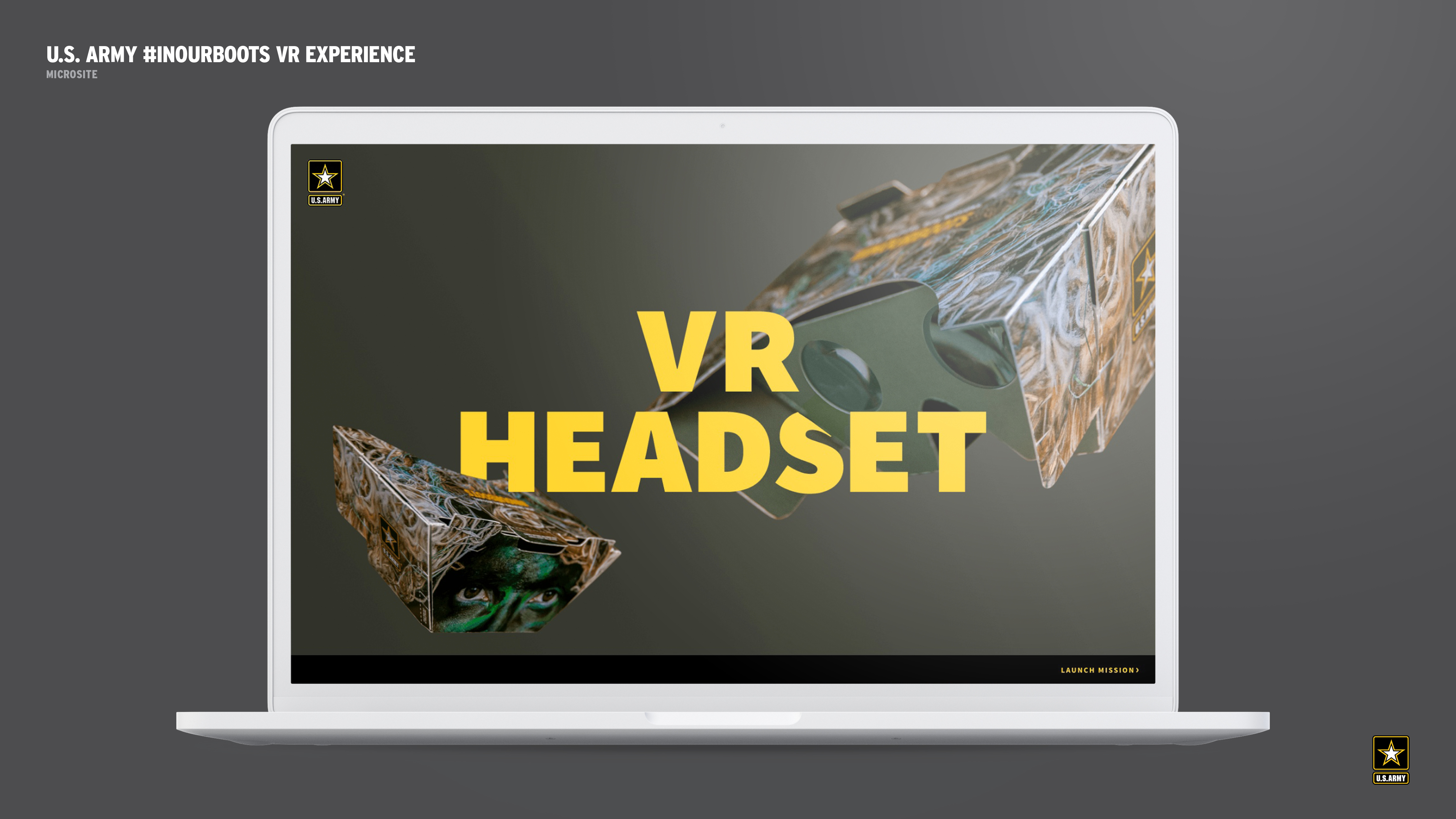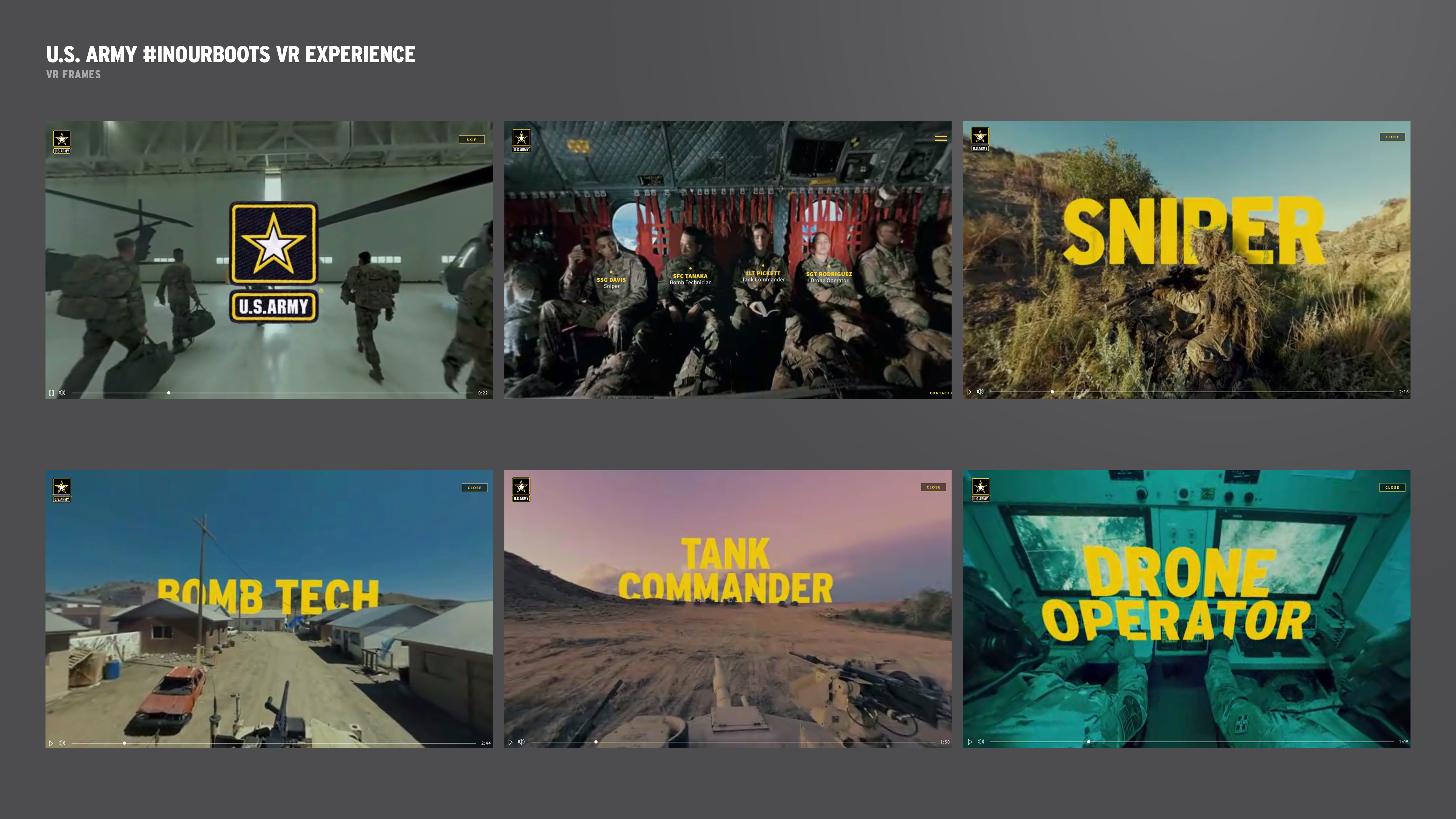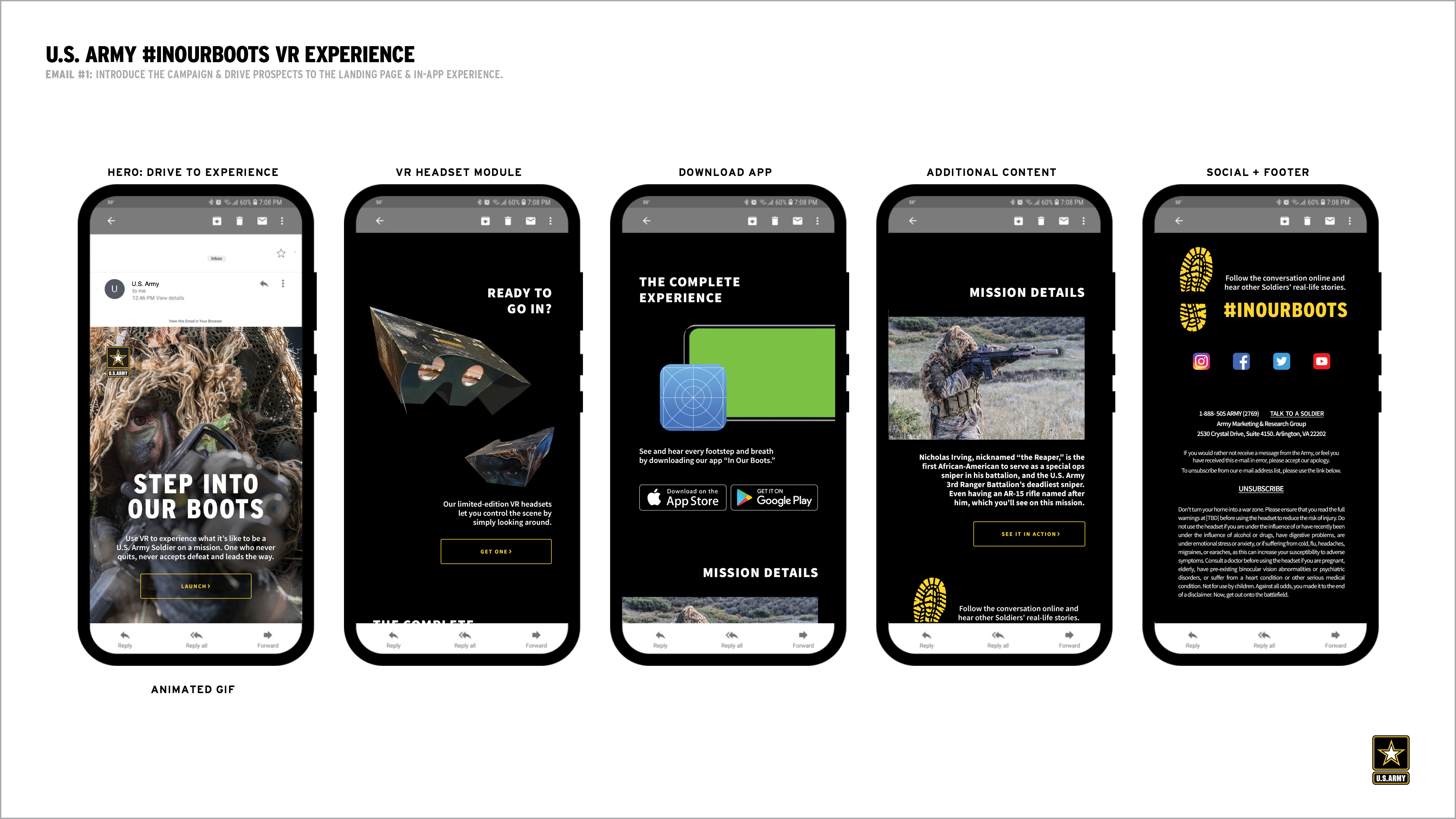 Unilever: Axe Social Media
AXE refocused their brand messaging to go beyond an adolescent tonality and grow their audience on Facebook, Twitter and Instagram.
Purposeful in its engagement and transparent in tone, the new social campaign harnessed an honest, clever approach while maintaining two, separate, yet related, threads: The first, supporting the launch of BBH's "Make Love Not War" broadcast push for the new, AXE Peace product line; and the second, maturing its social thread to begin capitalizing on the sensibilities of collective tastemakers by focusing on what is relevant, funny, or even emotional. In the end, engaging and growing an audience that included both men and women.
Beginning in January 2014, the focus of AXE social media was comprised of supporting the "Make Love Not War" broadcast campaign, while promoting the new, AXE Peace product line.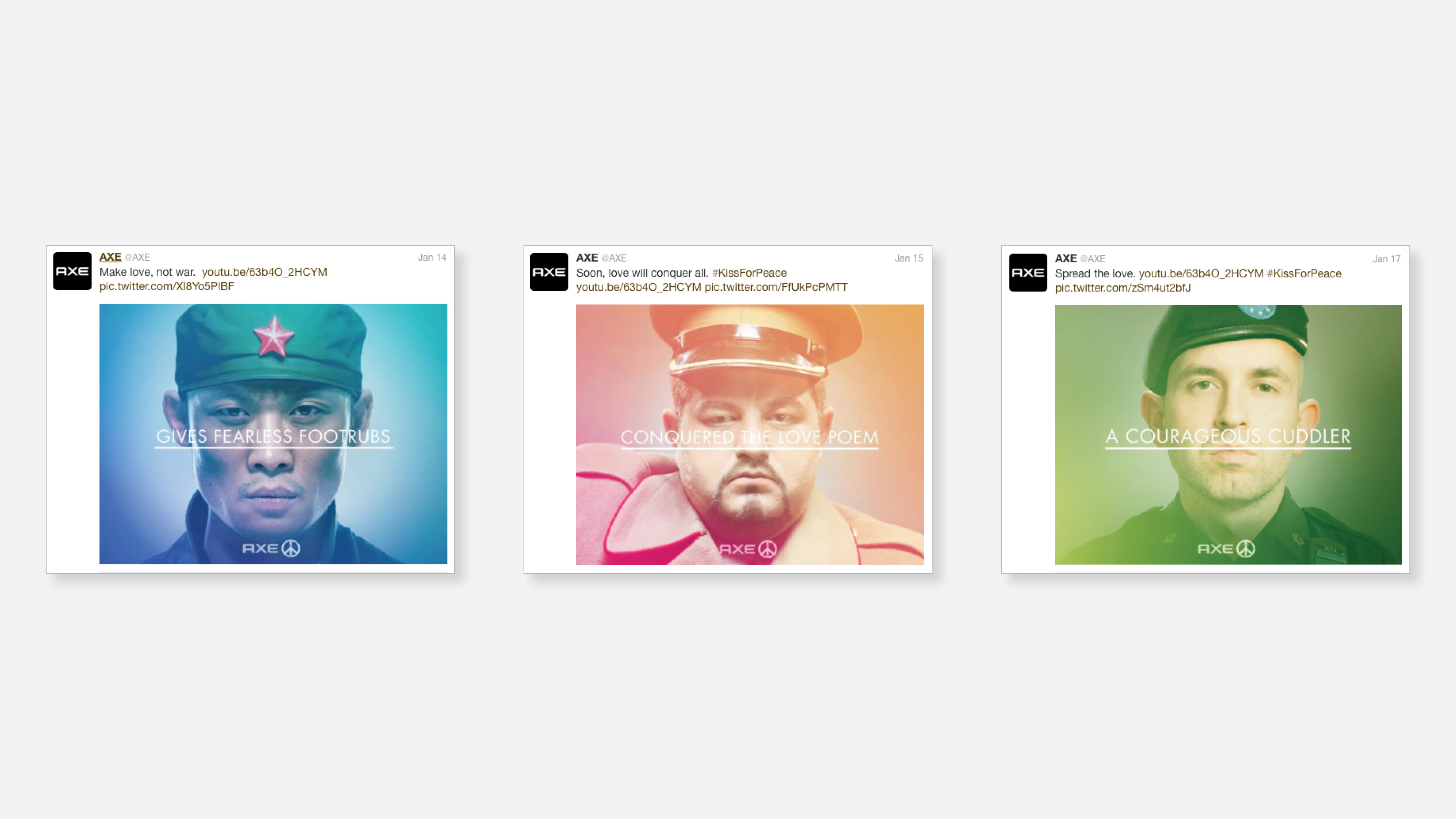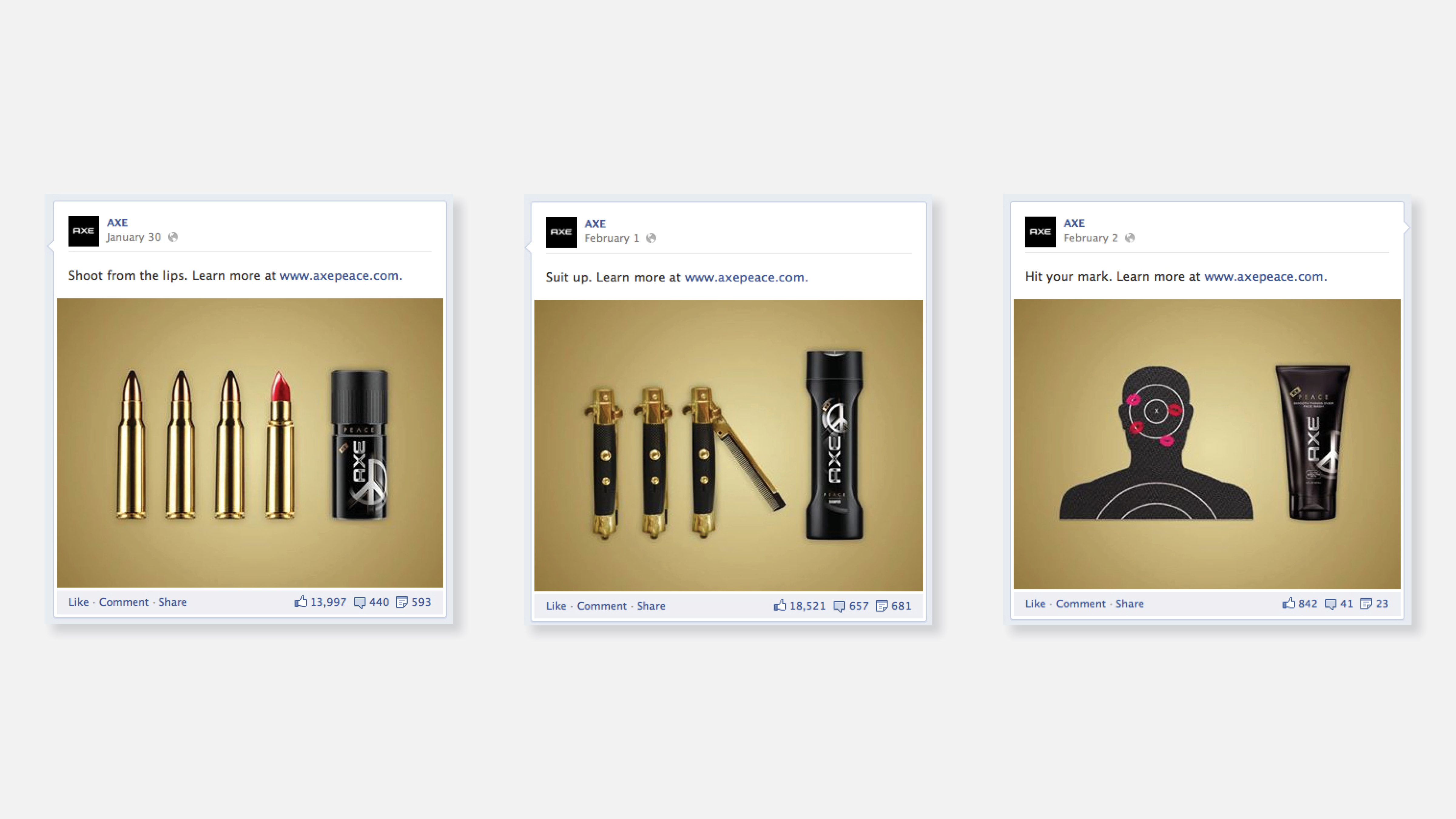 Dramamine - Motion Sickness Relief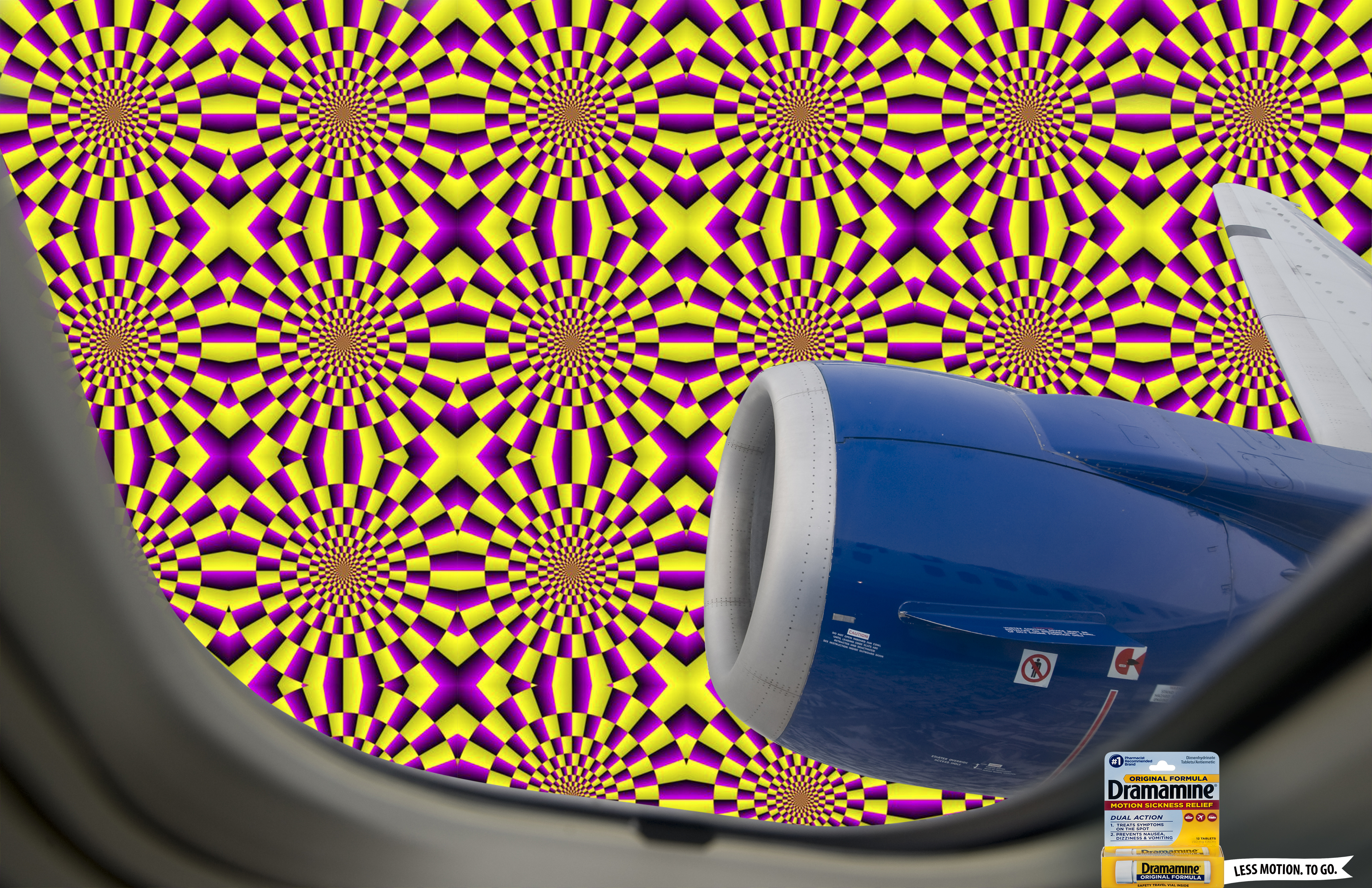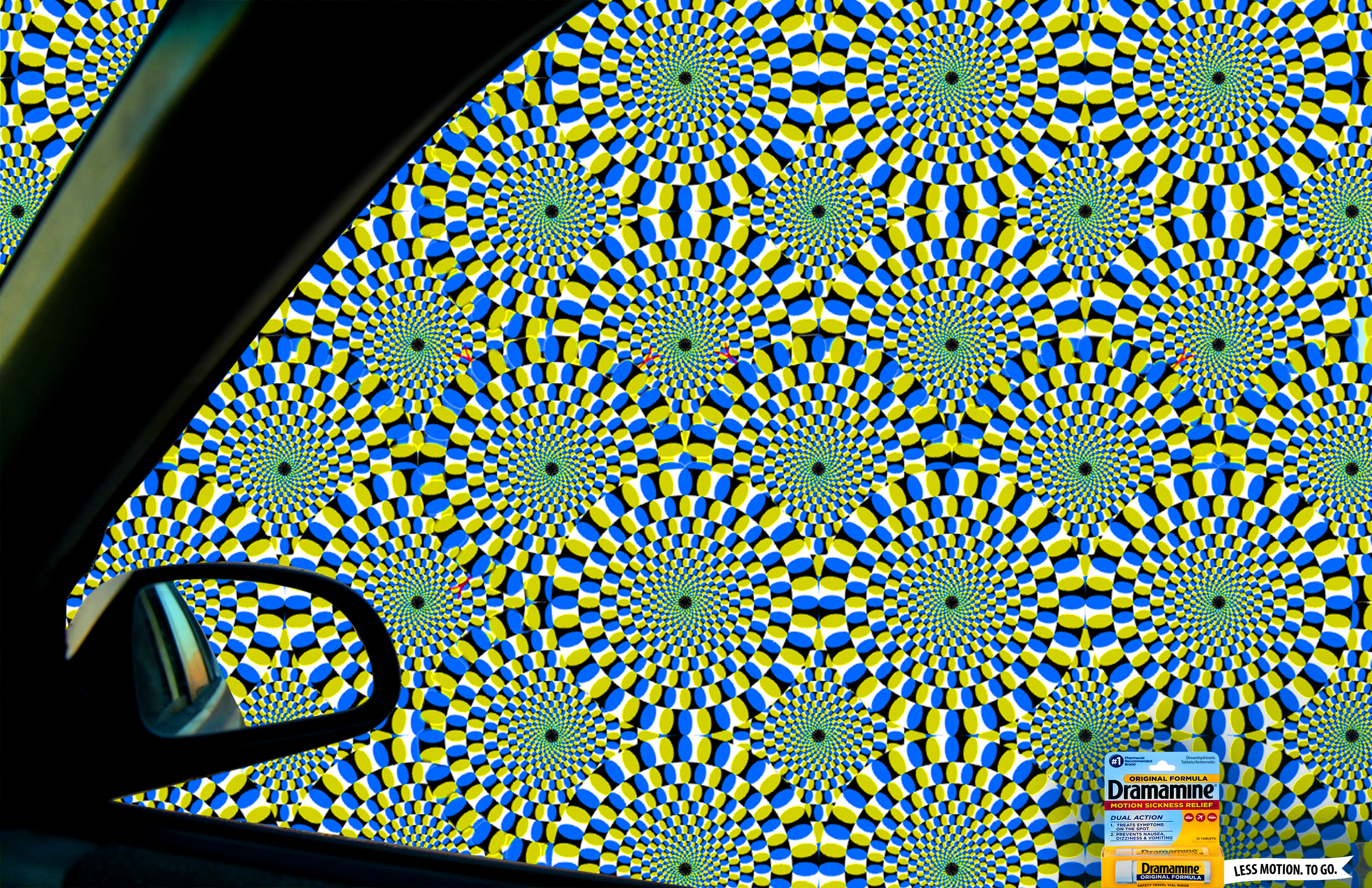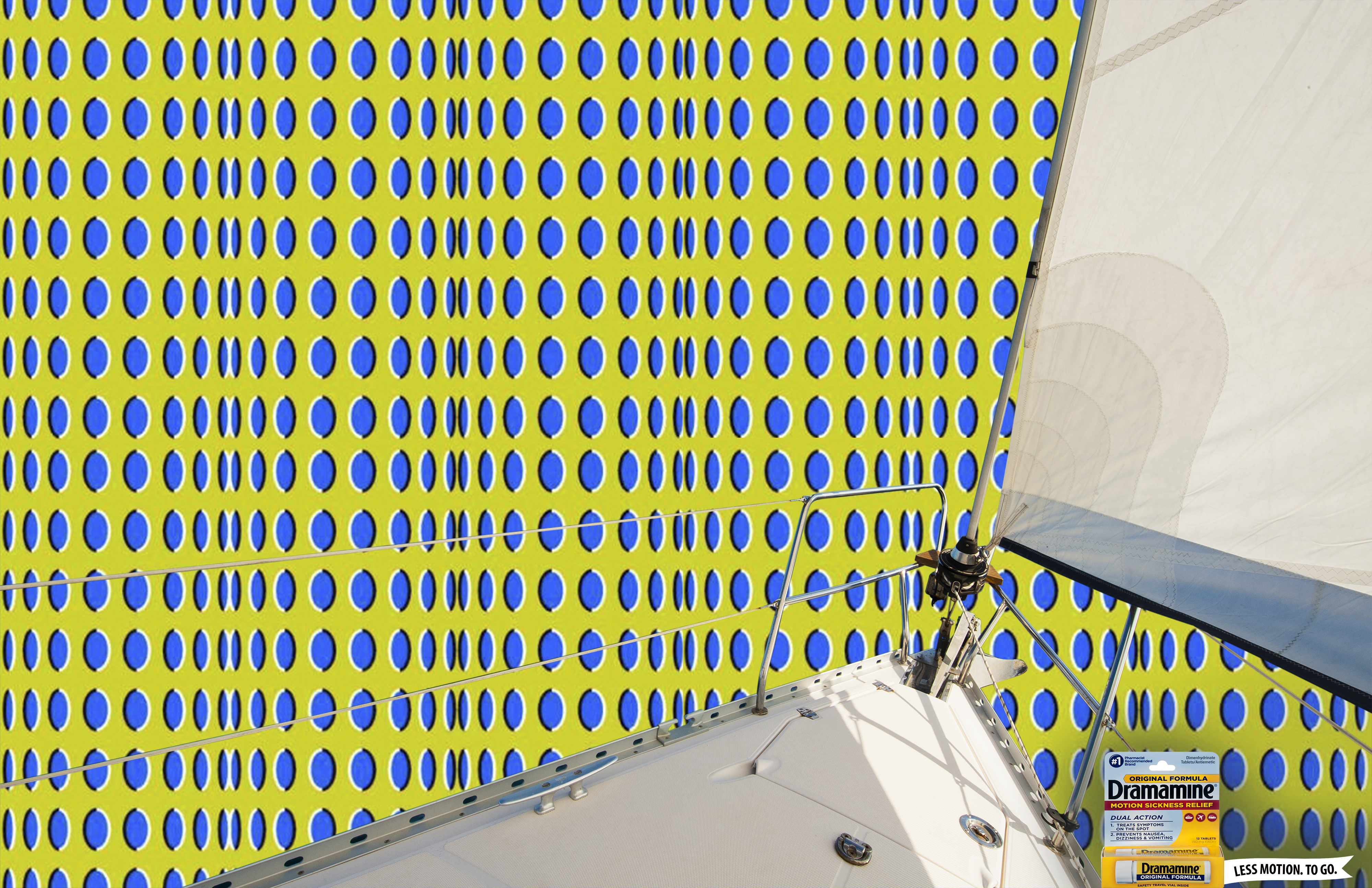 Maxim Magazine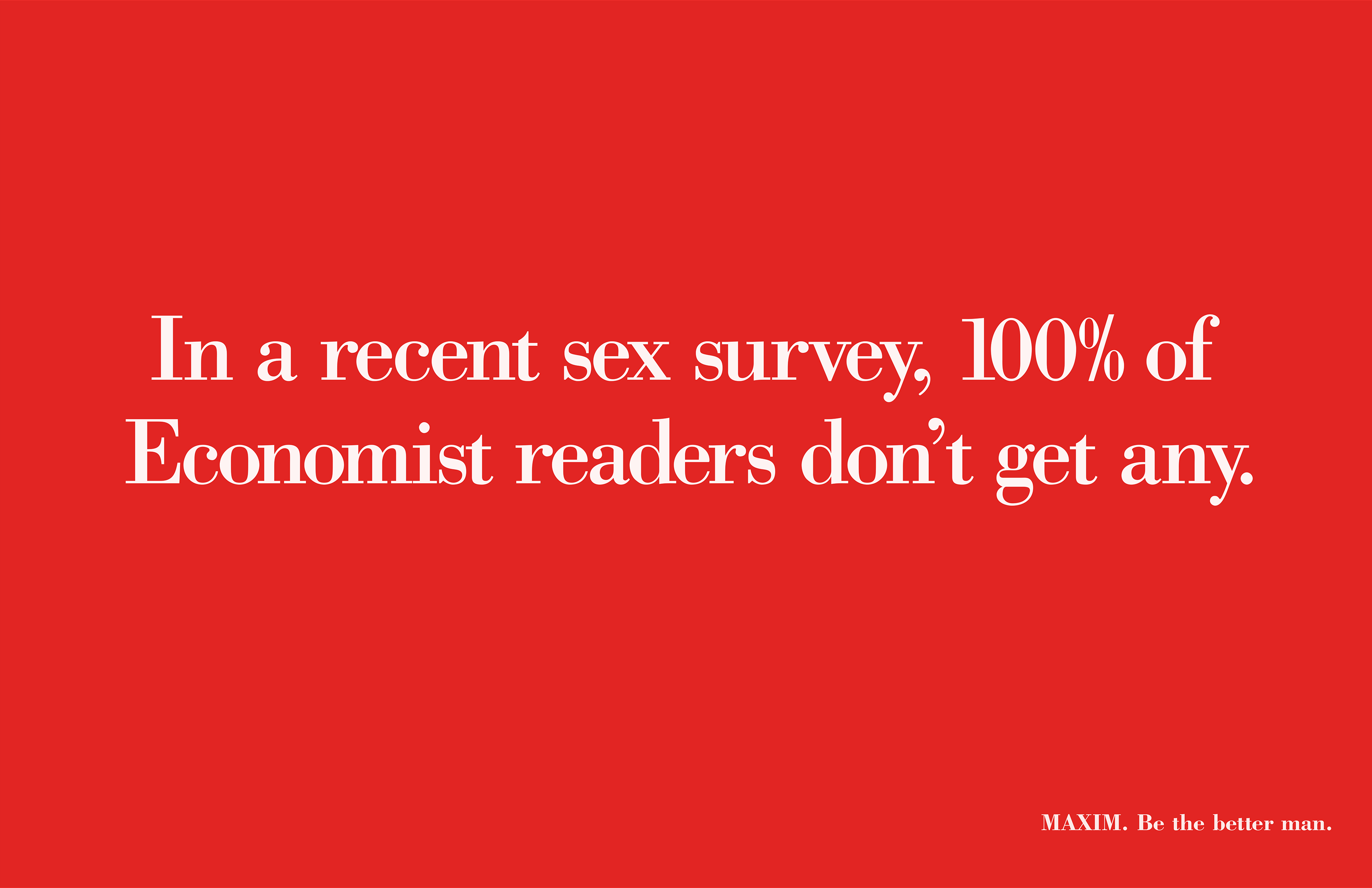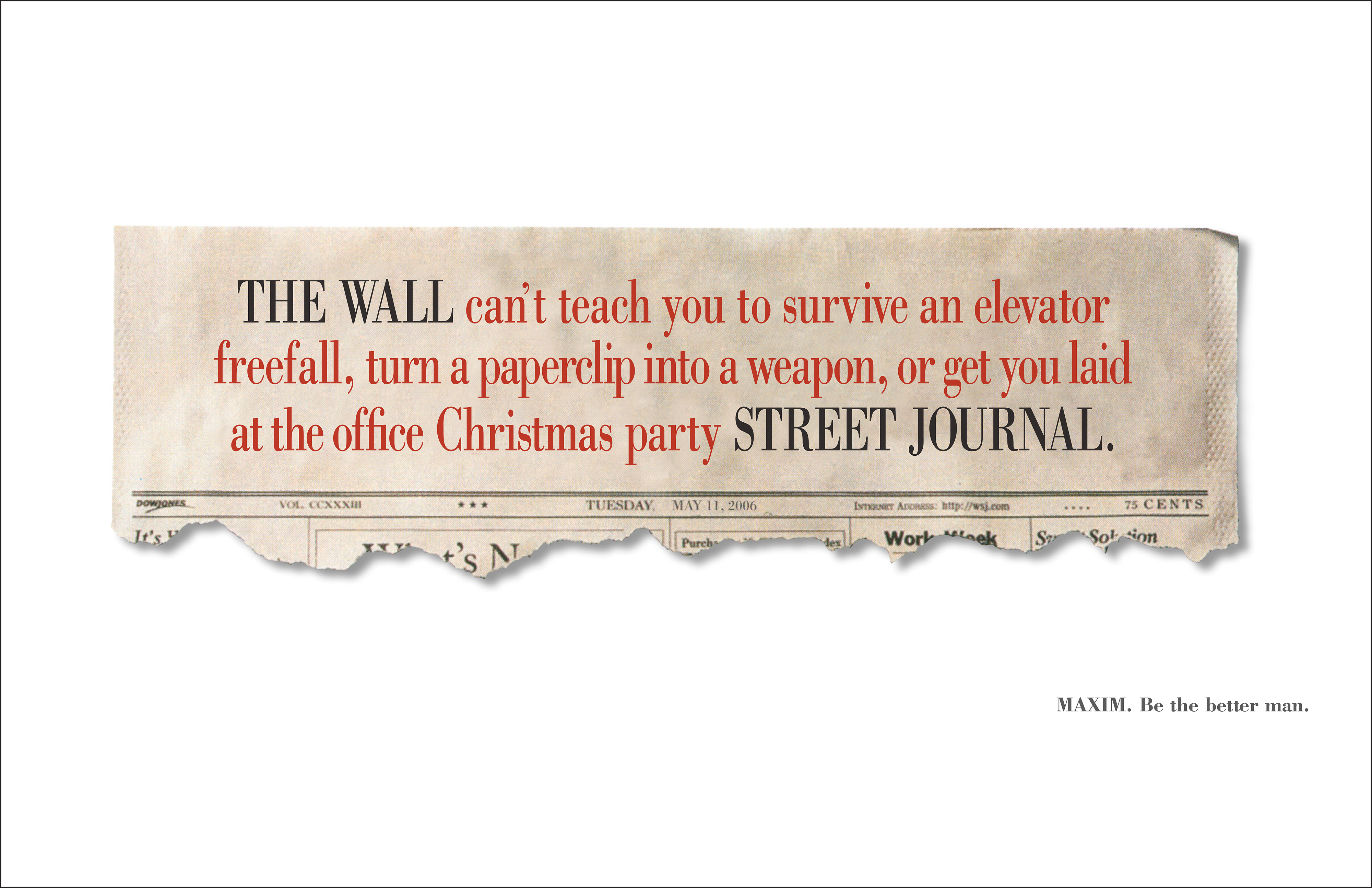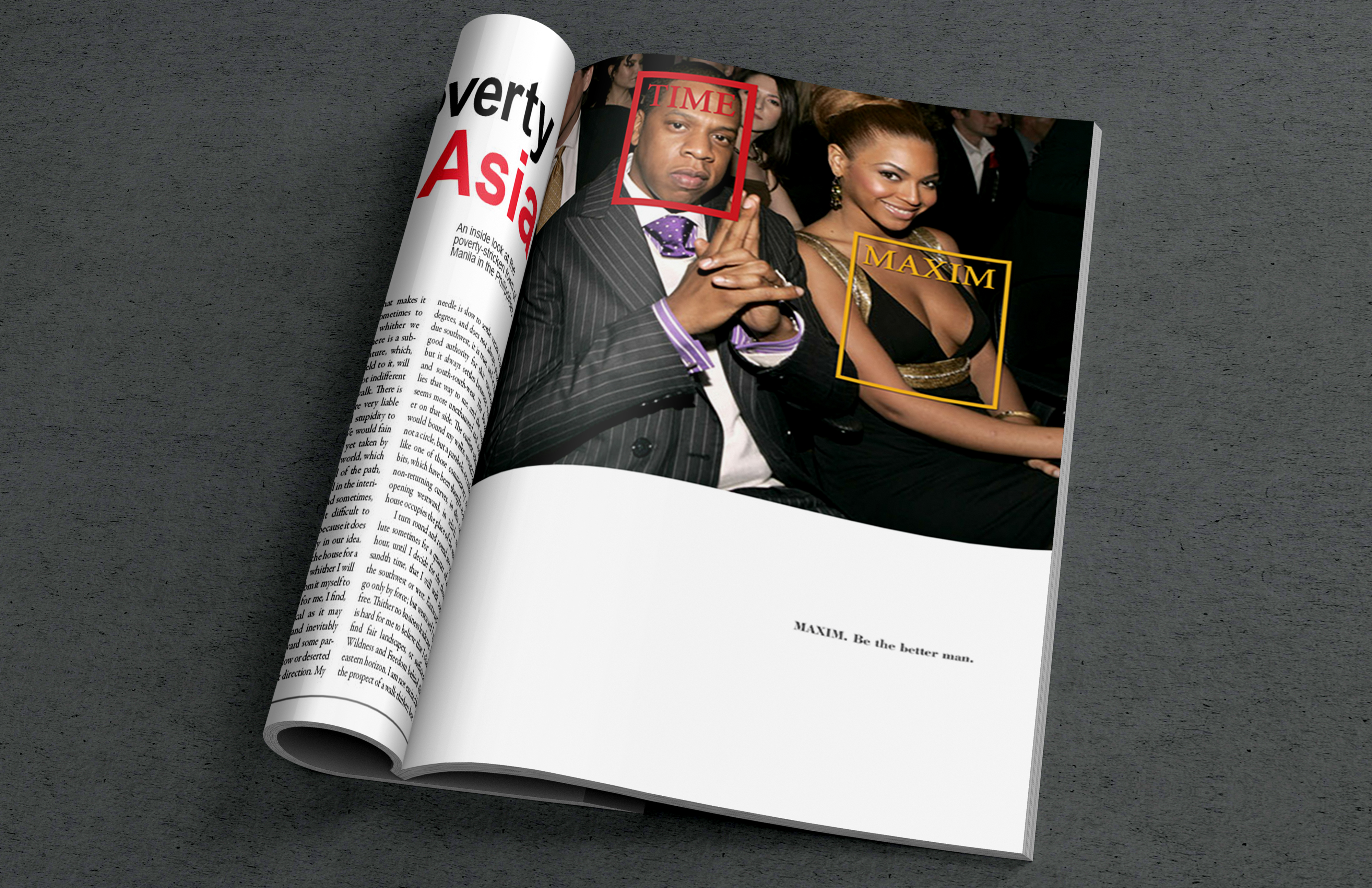 Iridium Satellite Phones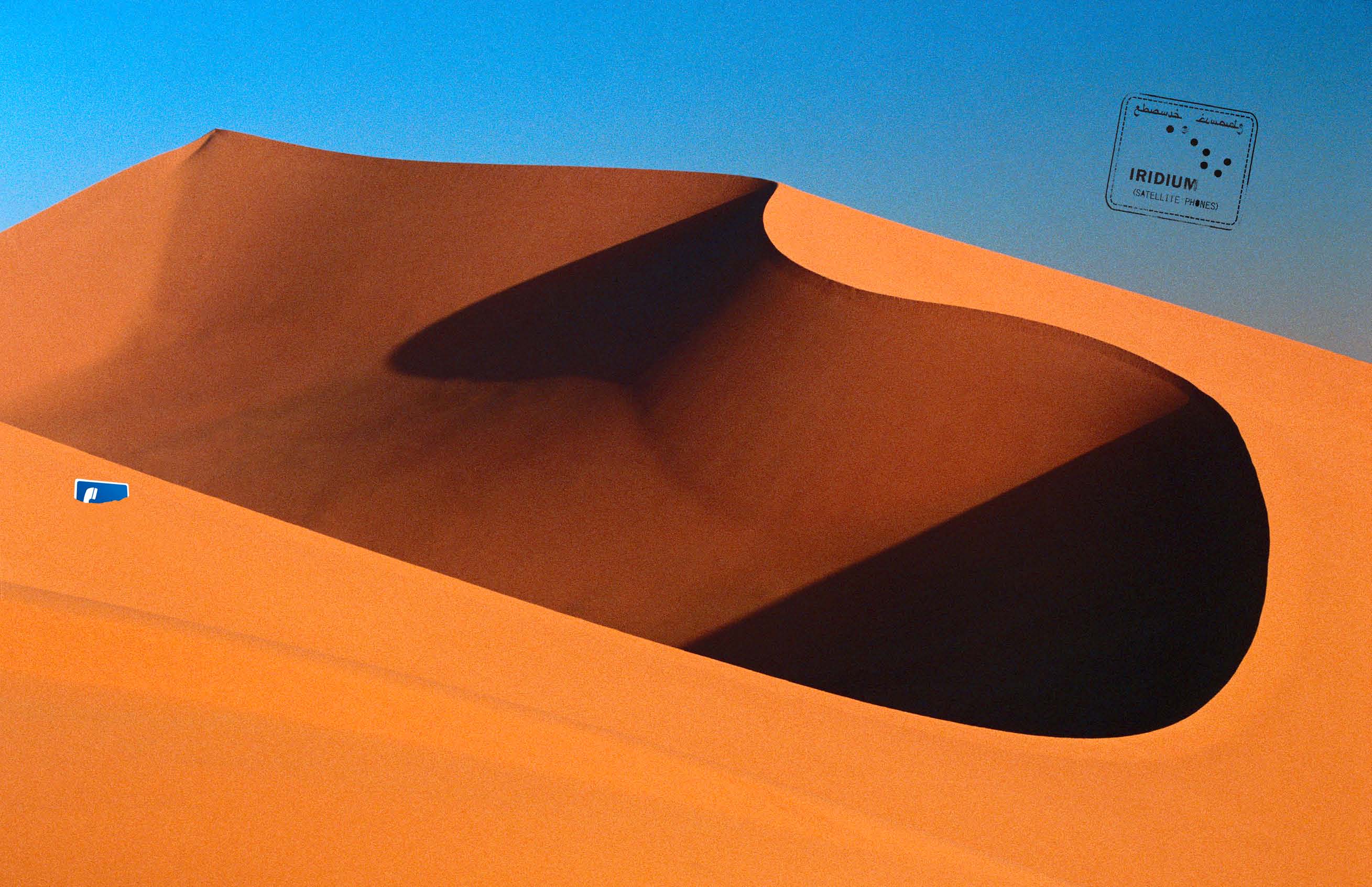 Handy.com: Instagram Story-based Social Promotion
Many home improvement brands encourage consumers to take matters into their own hands, at many times, to catastrophic results. DIY'ers oftentimes find themselves having to spend more time and money undoing problems they have caused. Having the best intentions isn't always enough -- sometimes you want the job done right. Handy.com allows consumers to book top-rated professionals for all of their home needs conveniently from a mobile handset.
To appeal to a younger demographic who don't always have the time and energy to execute home improvements or cleaning adequately, I created an Instagram Story-based promotion encouraging users to submit photographs of home improvement disasters with certain predetermined hashtags in order to build awareness about handy.com, and to suggest that users skip doing housework without the right assistance. 10 lucky individuals can win a full year of Handy's services at no additional cost.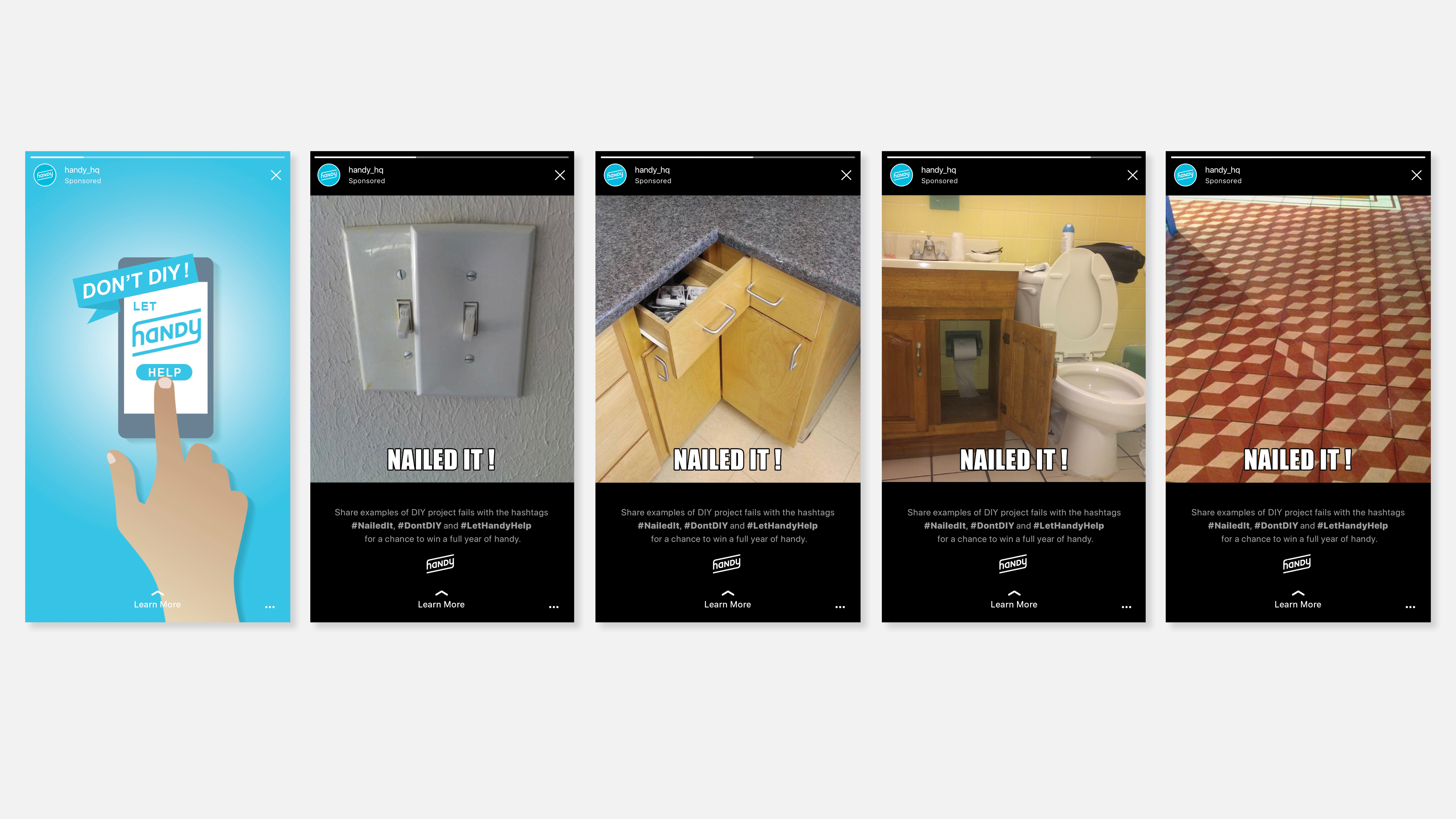 U.S. Navy - "Flags" TV/Video
The U.S. Navy is known as a global force, but to the African American audience, it is paramount that they see that sailors can provide service to this country while retaining their sense of identity, and their connections to those they care about back home. It is also imperative for the AA audience to see sailors in positions of leadership, worthy of respect of military and civilians. Part of a larger campaign which included print, DM, and banner ads, this TV spot shows how the Navy is a "Global Force For Good."
Samsung Digital
Samsung "Soul" Mobile Phone "Soul Collective" Website
Capitalizing on it's given name [Samsung Soul], sleek design, and depth of technologies, this Papervision, 3D-designed site strove to engage consumers through the creation of a cool, user generated experience whereby they could express themselves to the world through technology: "The Soul Collective." Viewers were encouraged to submit works of art in various mediums; to be judged by a rotating panel of visionaries including designer, David Carson, and singer-songwriter, Robin Thicke. (9 frames)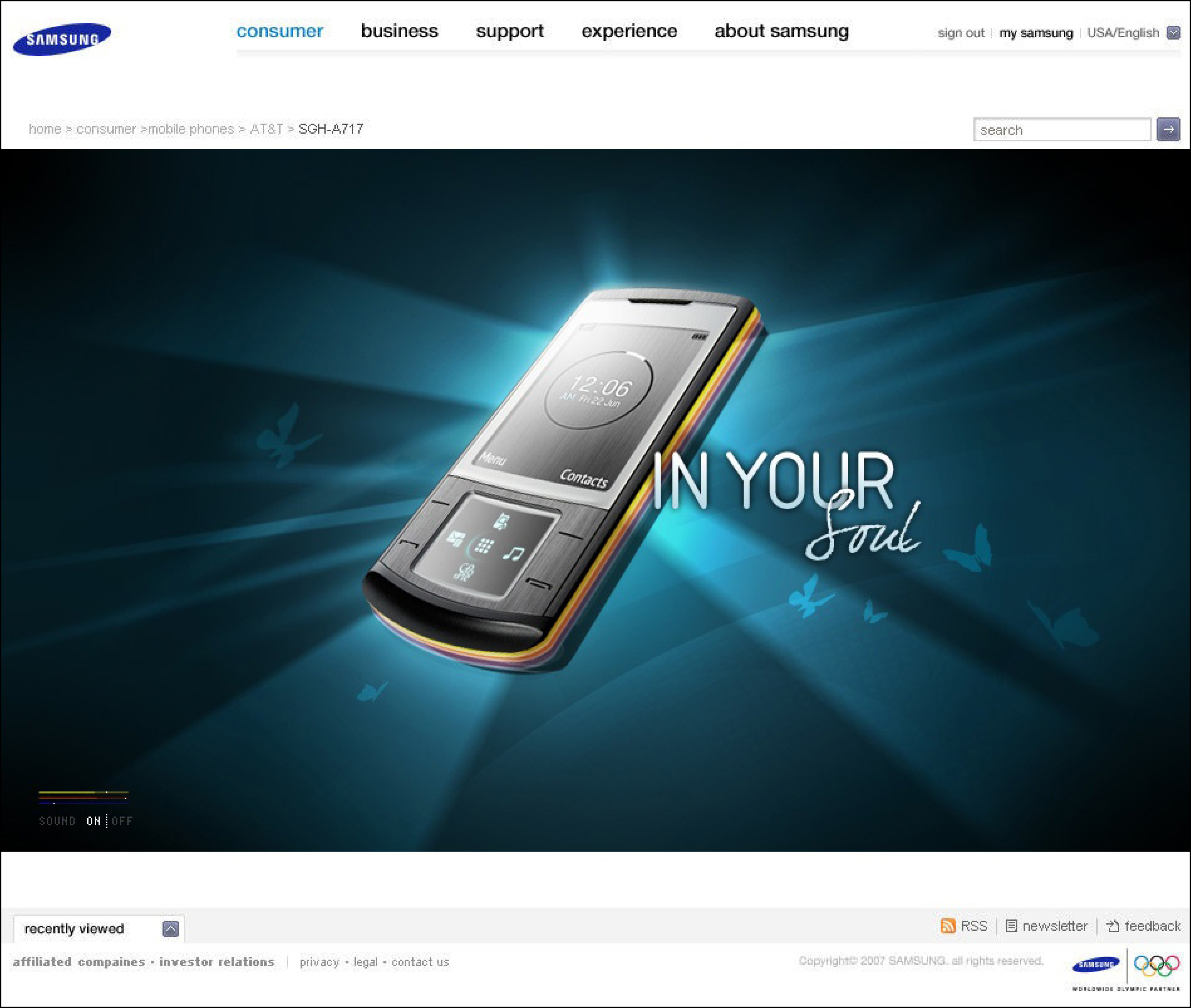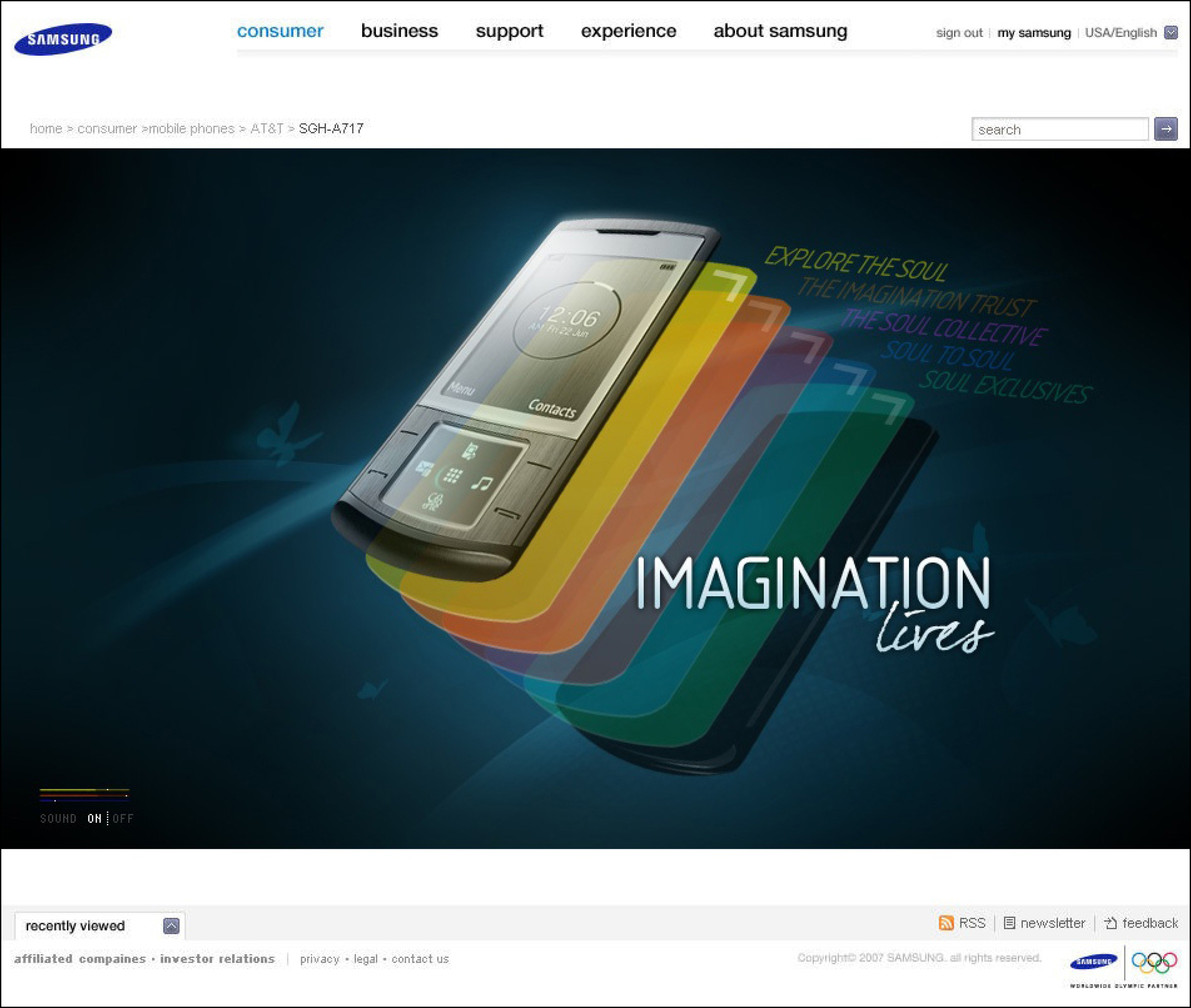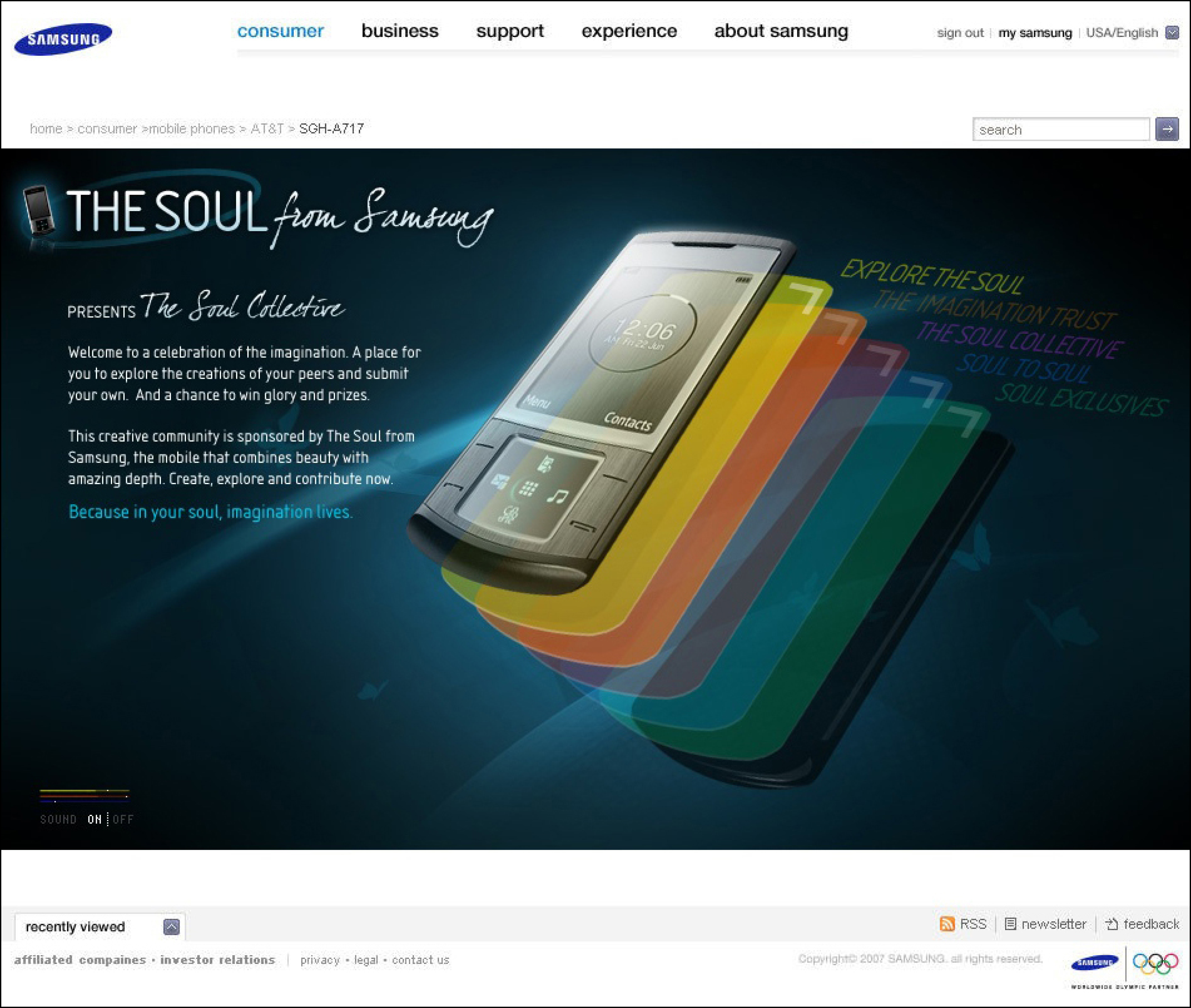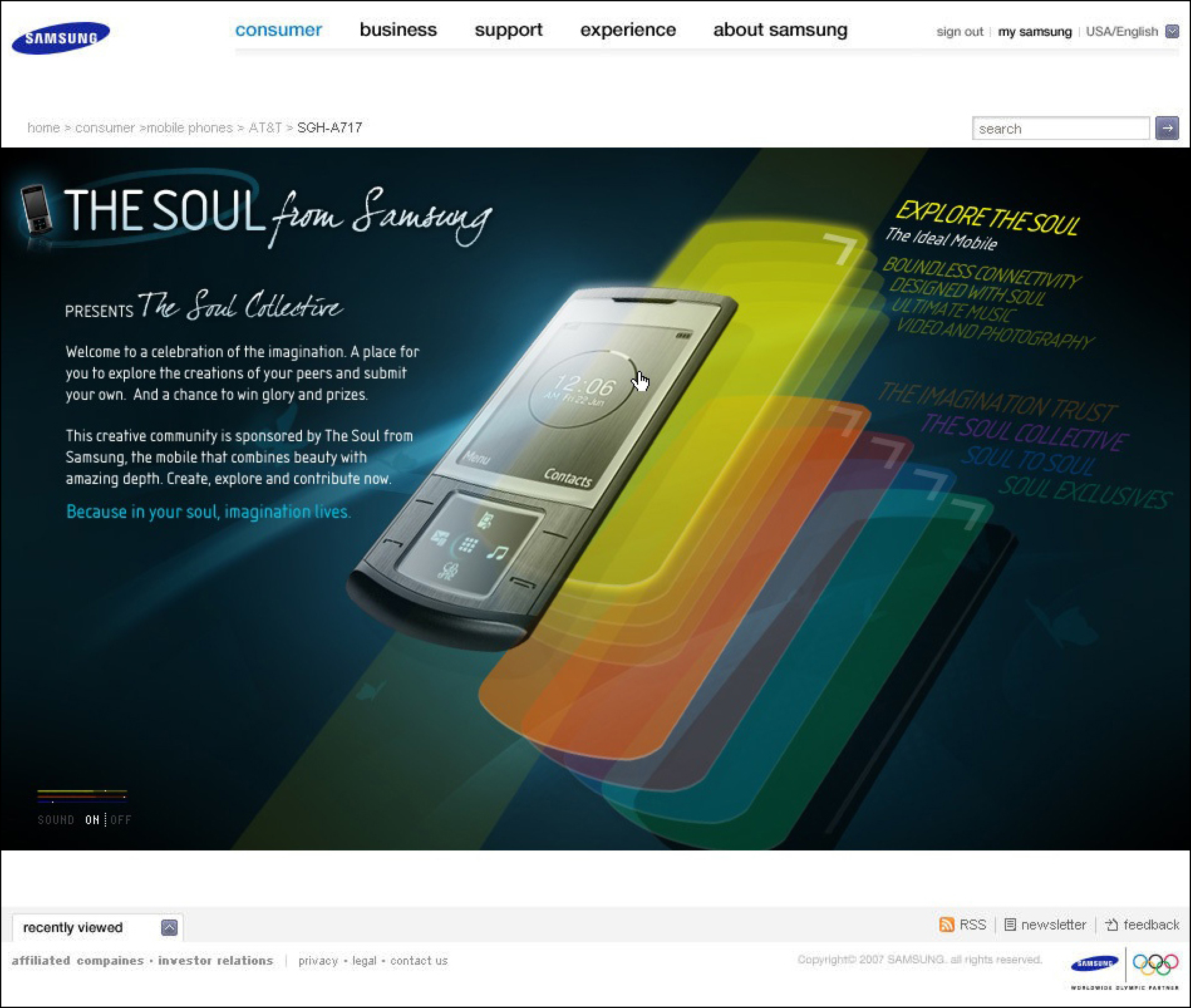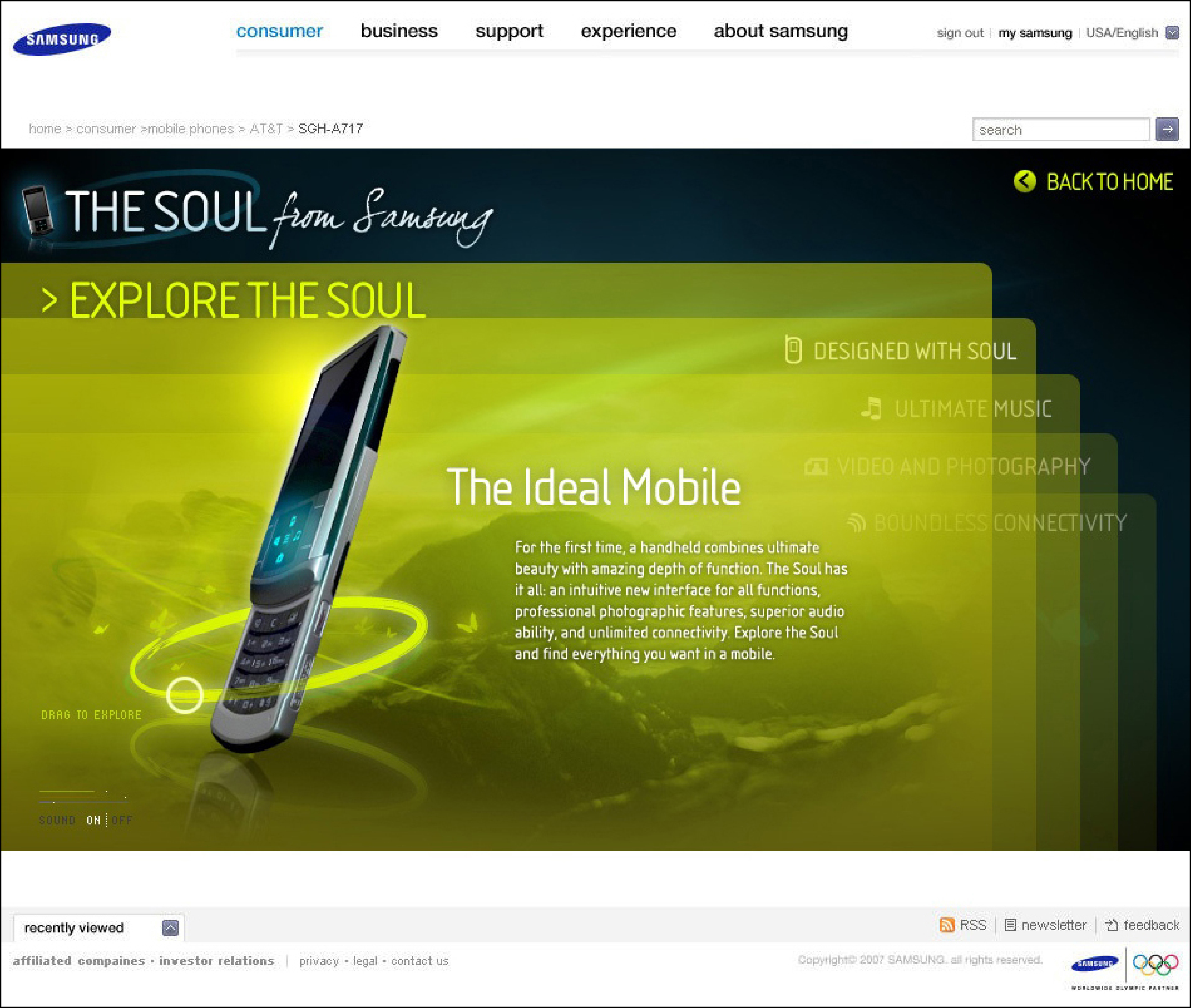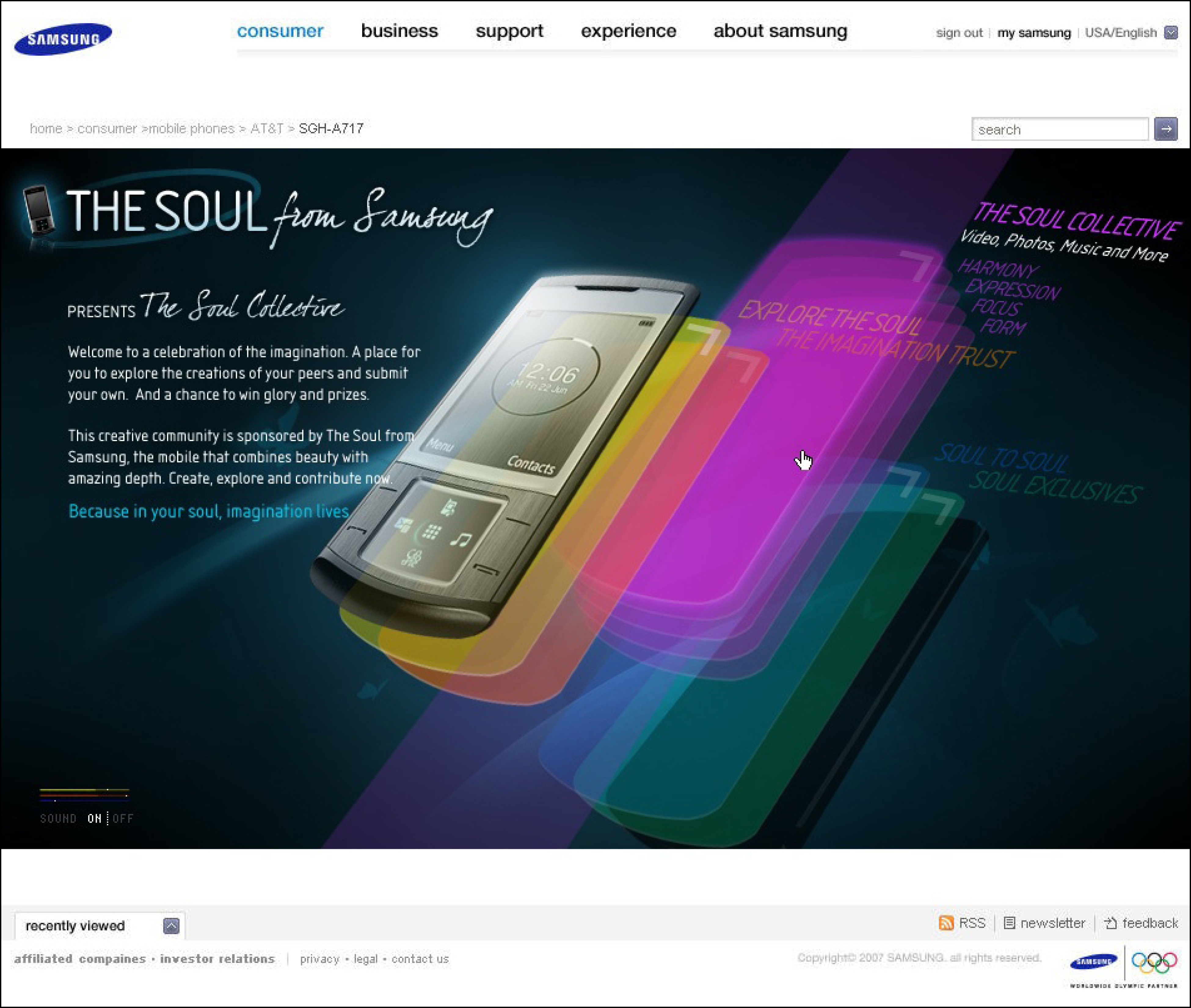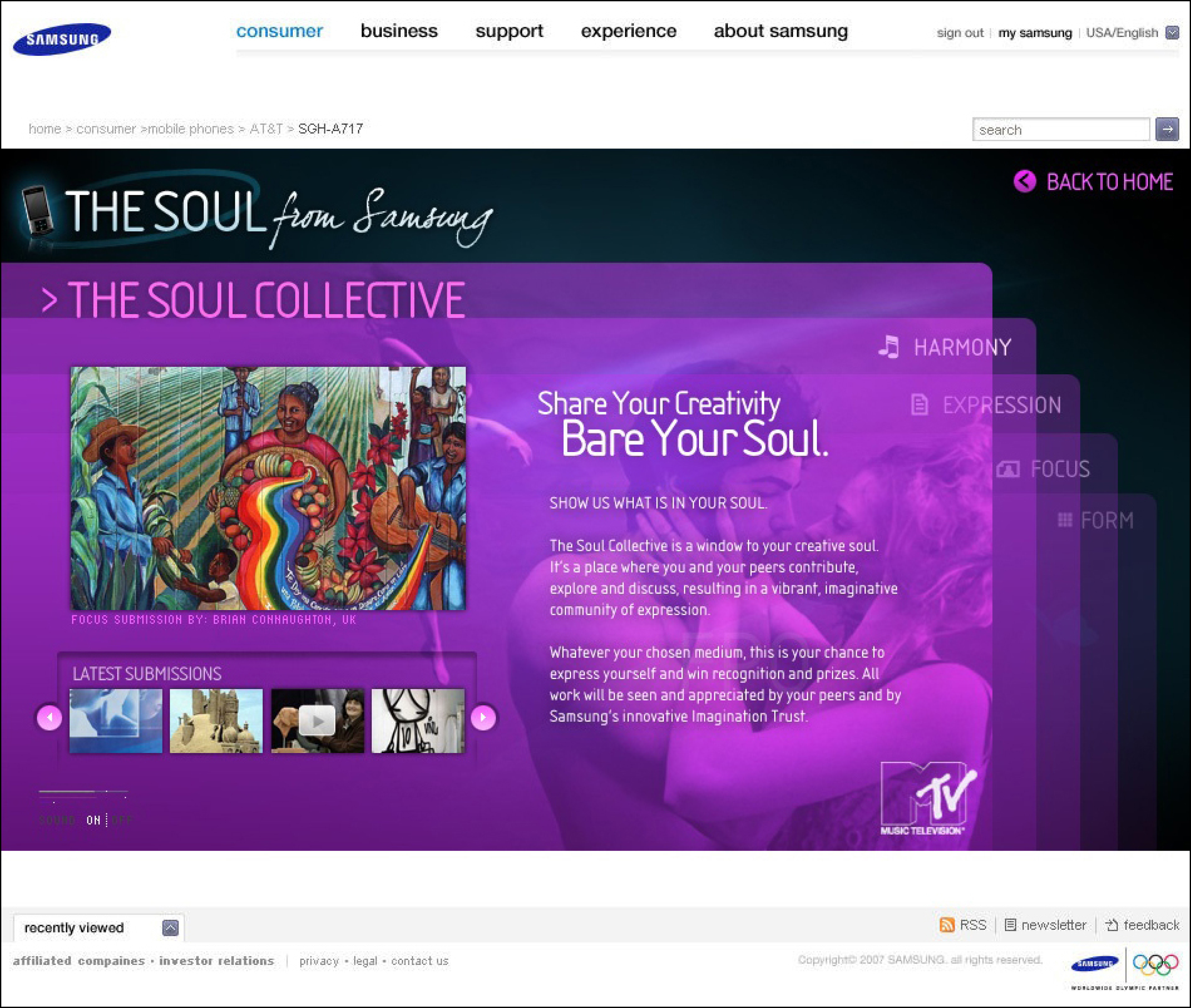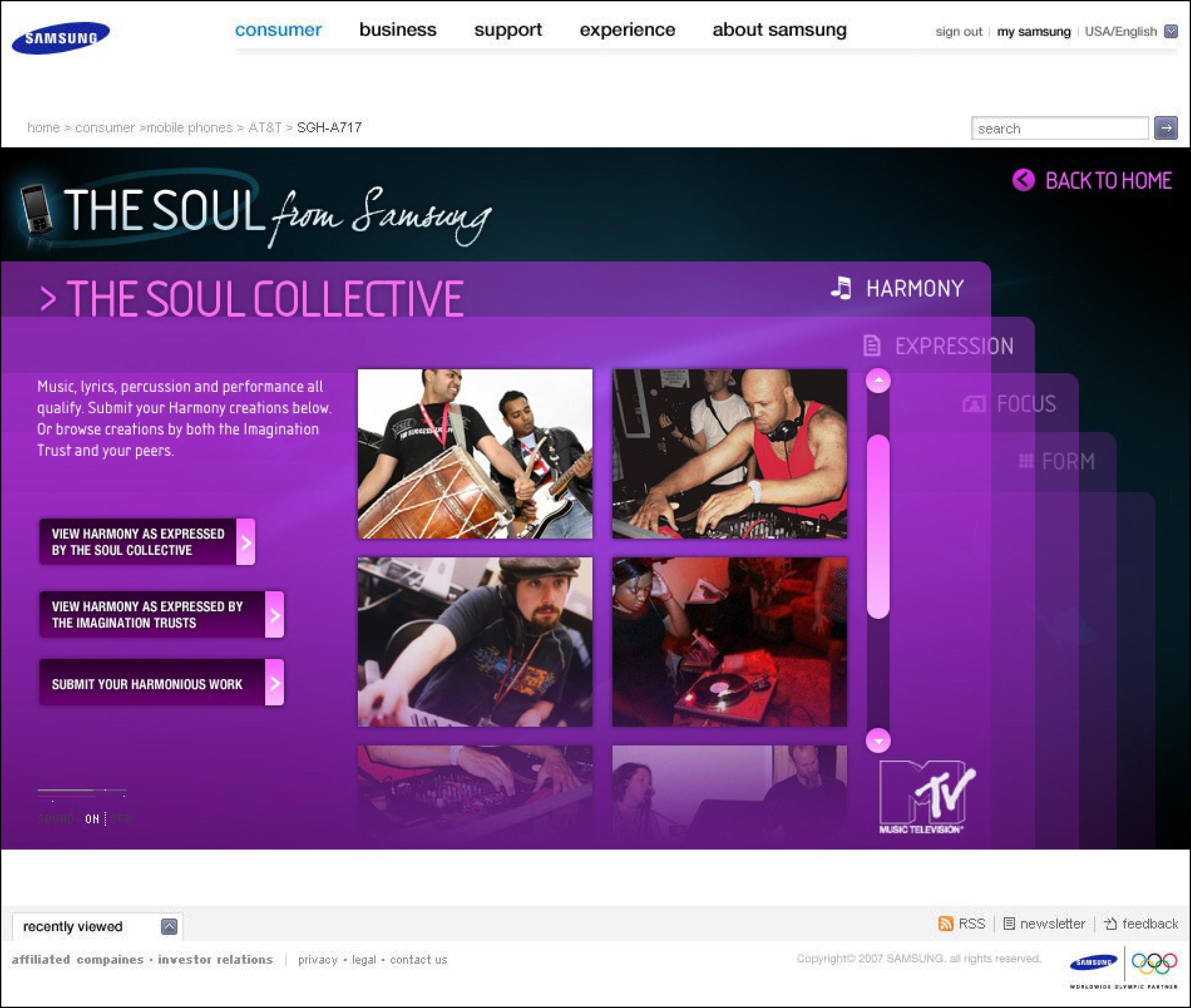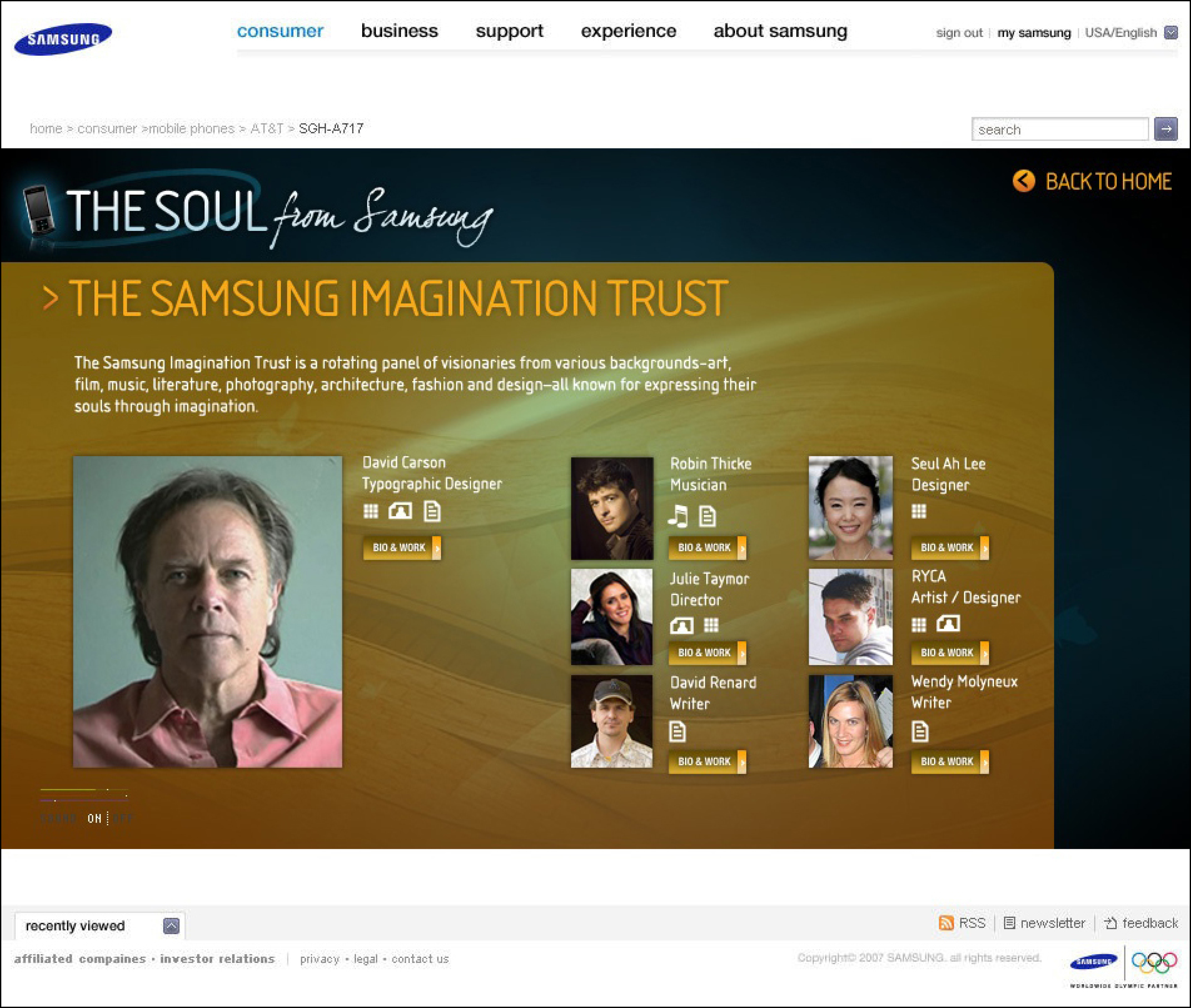 Bose Noise Cancelling Headphones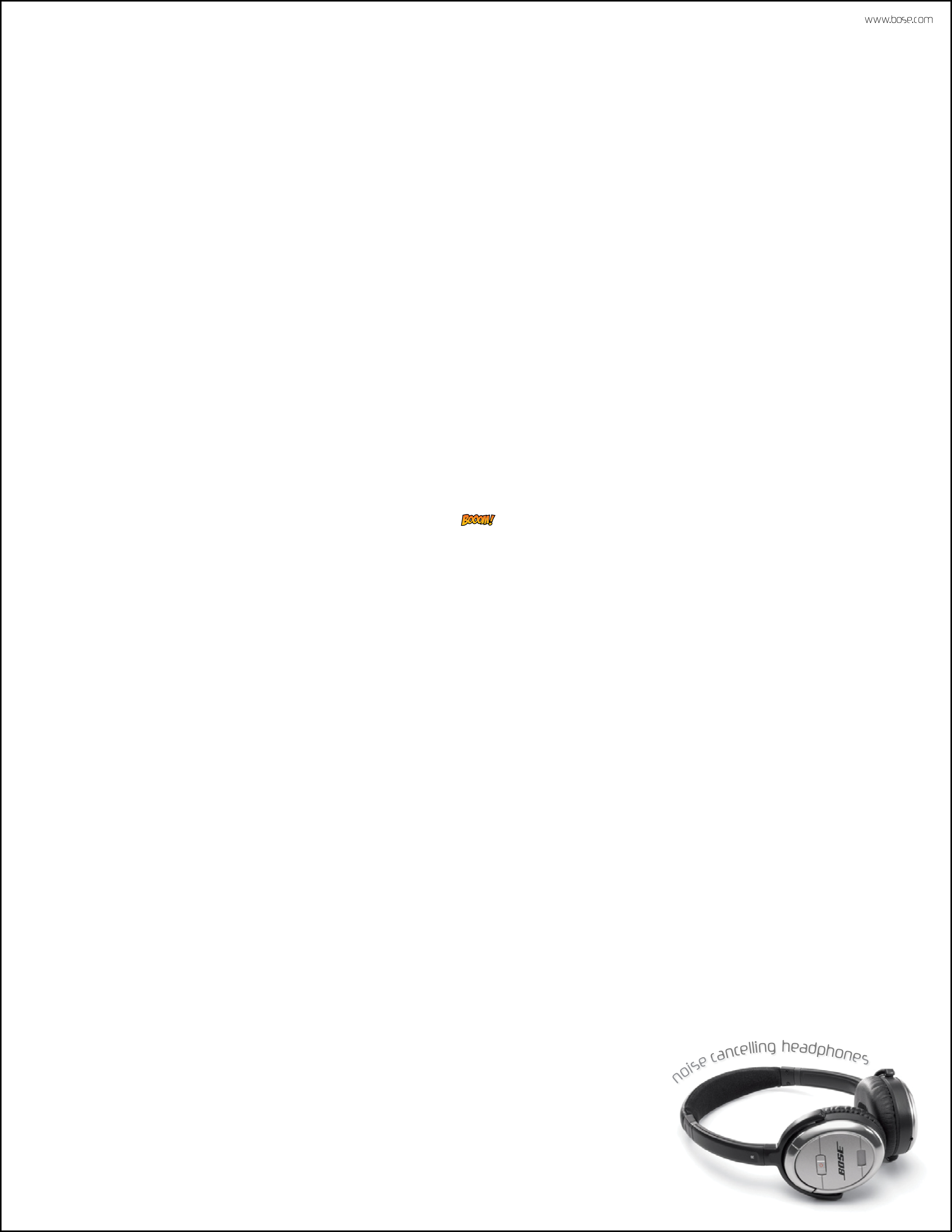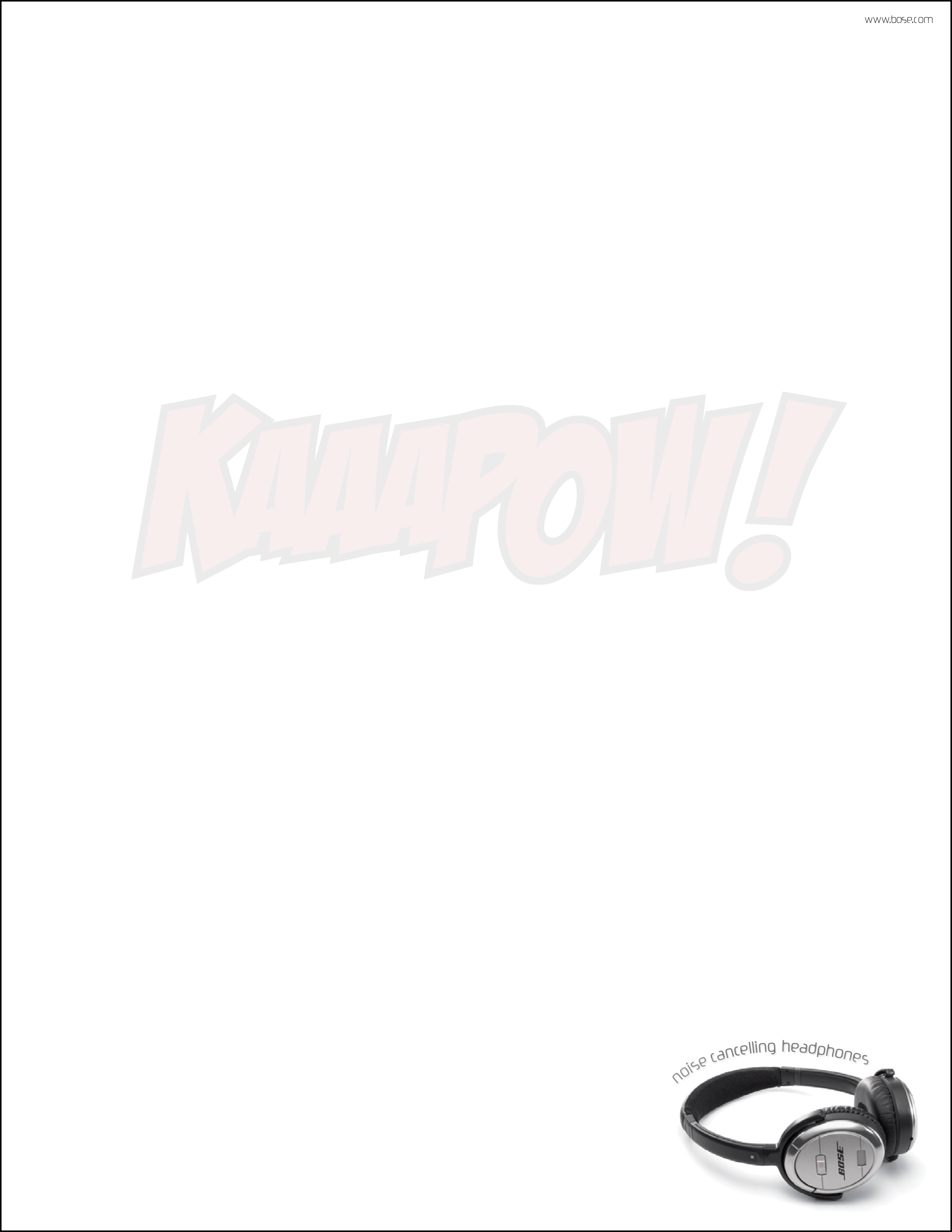 MOMA Obsessions Exhibit Poster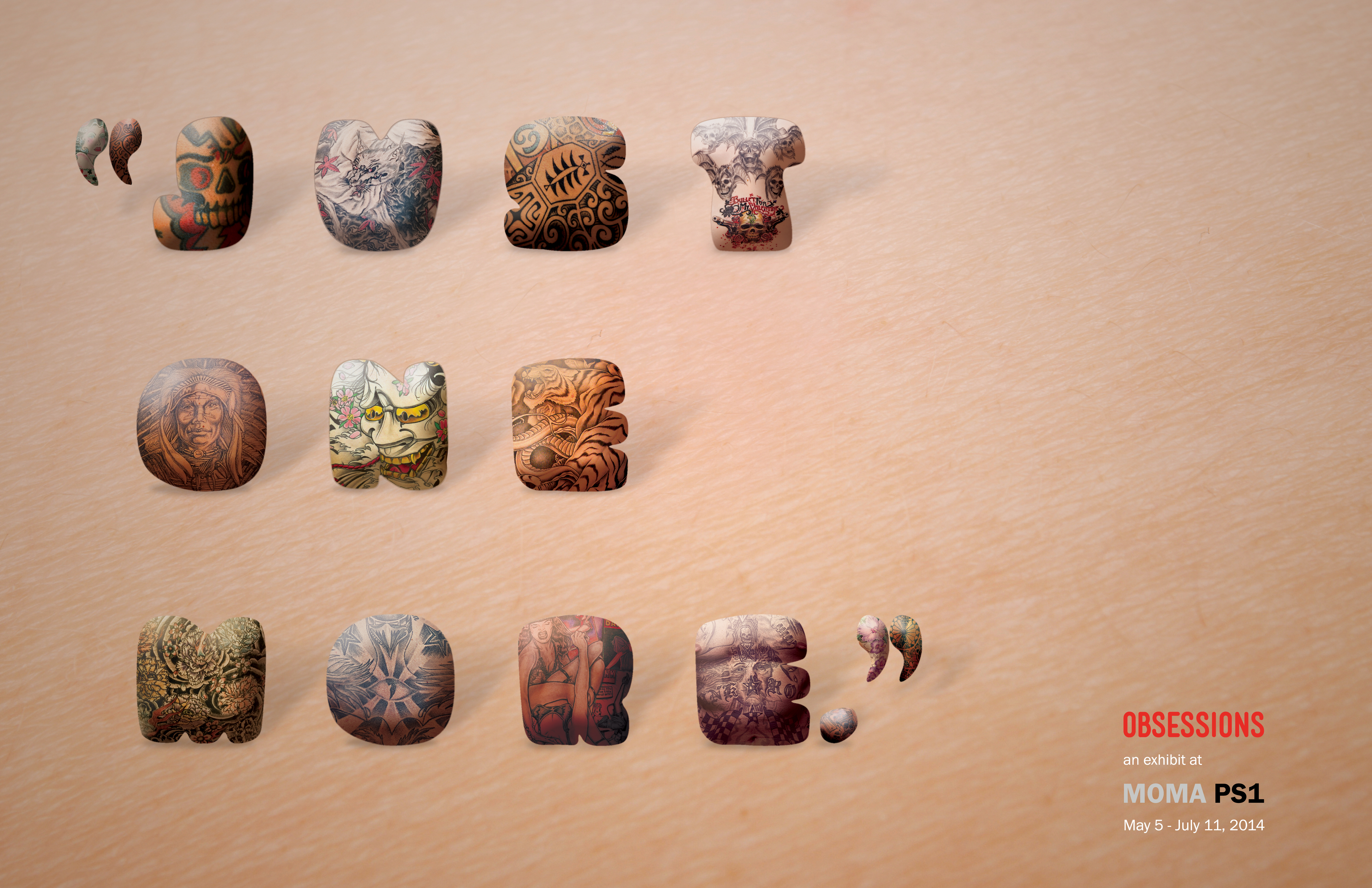 Let's Move Poster
Dodge Dart
With millennials solidifying their prominence within the marketplace, Dodge undertook a complete redesign of their iconic Dart line. Casting aside the "standard, compact of old," Dodge sought to appeal to a tech and money savvy generation of young professionals.

Sleek, intelligent, agile and powerful, the new Dodge Dart was the rebel in what was once a class of sameness — revolutionizing what a compact should be, no matter who is behind the wheel.